Wireless Burglar Alarm
Installations – servicing – Repairs – 24hr callout
Visonic Powermaster GT64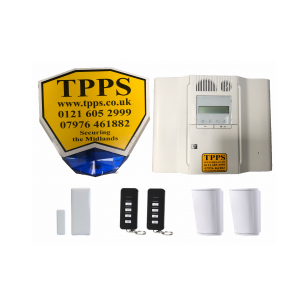 The PowerMaster installed by TPPS is Visonic's new line of wireless intruder alarm systems based on PowerG wireless technology. PowerG PG2 redefines the wireless security market with a combination of reliability, performance and an advanced feature set.
Using Visonic's revolutionary PowerG PG2 wireless network technology (patent pending), the PowerMaster family of products comprehensively addresses the needs of both residential and commercial markets, home owners, installers and central stations alike.
PowerG PG2 combines several field-proven, advanced wireless technologies, like those used in cellular networks and Bluetooth, with the highly reliable AES encryption method. The greatest innovation in PowerG is having these technologies operate on non-rechargeable batteries while still keeping all devices connected and online. Advanced signal jamming prevention with frequency hopping technology, this allows the system to identify interruptions in frequency and automatically adjusts to continue reliable communication.
PowerMaster has placed itself as the market leading range of wireless alarm systems. 2 way communication between devices makes installation simple and increases battery life massively. With advanced transmission range, PowerG PG2 devices can reach a range of up to 1.9 kilometers (line of sight). Compatible with the latest PowerMaster ancillaries allowing great features such as remote connectivity via the Visonic GO app when purchased along side the Powerlink 3.1 IP Module.
PowerMasterGT64 PG2 is a professional wireless security alarm system. Suitable for advanced security alarm monitoring applications and heavy duty operation, it has a superior range, extended battery life and unmatched wireless robustness.
Visonic Powermaster GT64 Control Panel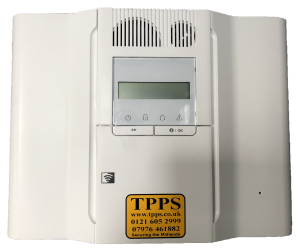 Features:
• Two-way communication eliminates lost alarms and unnecessary re-transmissions
• 64 wireless zones
• 48 user codes
• Supports partitions
• Up to 48 hour backup battery
• Built-in siren
• Optional 3G, GSM/GPRS and IP modules
• Audible voice notifications
• Proximity reader
• Remote software updates
Slimline 4-button keyfob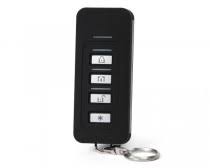 The slim 4-button keyfob supplied by TPPS that is used to perform most of the common alarm commands: arming and disarming, emergency signaling, panic alarm and viewing the system status. Using the keyfob is as easy as activating a car alarm. It provides instant visual verification that the requested command has been successfully executed. There is no need to remember codes and it is small enough to fit in a pocket.
KF-235 PG2 uses Visonic's ground-breaking PowerG technology which combines several field-proven advanced technologies and the highly reliable AES encryption method. When used in residential security systems, this combination of technologies delivers an extended transmission range and battery life, and unmatched advantages for professional installers, central monitoring stations and end-users alike.
KF-235 PG2 Features:
Small, slim design: available in a choice of several different styles and colors
One-click arming/disarming, emergency signaling, panic alarm and checking of system status
Large transmission range enables repeater-free installations
Visible signal quality indication shown on the device
Long battery life (5 years with typical use)
Visible low battery indication
Central stations can brand by creating a uniquely designed keyfob*
PowerG two-way Frequency Hopping Spread Spectrum FHSS-TDMA technology provides robustness and reliability closer than ever to a wired alarm system
Employs the proven AES-128 (128 bit key) advanced encryption algorithm for correct message identification and protects the alarm system from code grabbing and other attacks
Configured from the panel – no hardware switches and no need to re-open the device once closed
Compatible with PowerMaster systems and PowerG receivers
The event time & date stamped log memory stores information such as the zone area in which an intrusion takes place. This memory log conforms to the guideline set out by the Association of British Insurers (ABI).
One MC-302V PG2 Wireless Magnetic Contact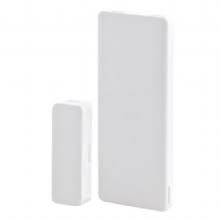 TPPS install the MC-302V PG2 is an extremely small and thin wireless magnetic contact transmitter, designed primarily for protecting doors and windows. When installed by TPPS, the MC-302V PG2 is virtually unnoticeable and does not interfere with home décor.
Fully compliant with international standards, the MC-302V PG2 is a highly reliable wireless magnetic contact that is compatible with PowerG alarm systems and is very easy to install and operate in a wide range of residential and commercial environments.
MC-302V PG2 Features:
Ideal for protecting doors, windows and other openings
Very small and virtually unnoticeable when installed – Fits any window/door type and décor
Highly reliable – PowerG two-way Frequency Hopping Spread Spectrum FHSS-TDMA technology; compatible with PowerG systems and receivers
Easy installation and maintenance – Easy to install and remove; visible signal quality indication on the device; large transmission range, enabling repeater-free installations
Prolonged battery life for up to 5 years (with typical use), with coin-size battery
Two Wireless Pet-Tolerant Digital PIR Detector (868MHz).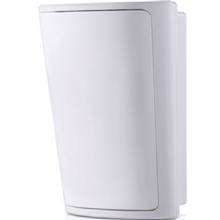 The MP-802 PG2 installed by TPPS is a smart dual-function indoor PIR motion detector that offers reliable motion detection and temperature monitoring performance, in one easy-to-install and attractive device.
Dual motion and temperature detection functionality addresses the growing market demand for smart compatible devices. Market-leading intrusion protection with superior immunity to false alarms, it also reduces inventory demands, and simplifies installation. An easily accessible battery compartment and longer battery life further reduce maintenance requirements.
Designed for contemporary aesthetics, the compact MP-802 PG2 has a sleek, modern look that blends in with any décor. It is perfectly shaped for unobtrusive corner placement.
The MP-802 PG2 has a removable 38kg pet tolerant lens, simply remove the lens to change the detector to a standard
Features:
• Motion and temperature detection in a single device
• Built-in PowerG leading edge wireless intrusion technology
• Compatible with PowerMaster alarm systems
• Advanced True Motion Recognition™ algorithm differentiate between intruders and other disturbances
• Pet tolerant Target Specific Imaging™ distinguishes between humans and pets weighing up to 38 kg (85 lb)
• Fresnel and cylindrical lenses for uniform detection sensitivity with an operating range of up to 12 m (39 ft), with no vertical adjustment needed
• Faster, easier installations and maintenance
• Battery lasts up to 8 years with typical use
• Easily accessible battery compartment
• Small size, perfectly shaped for unobtrusive corner placement
• Front and back tamper protection
• Complies with strict security standard: EN 50131-2-2 Grade 2 Class II
External TPPS audbile warning Device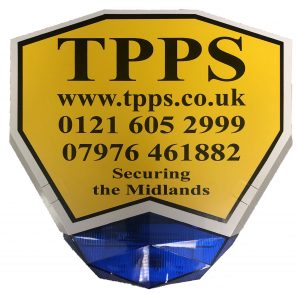 Self-powered external wireless Bell Box.
SR-740 Hex PG2 is a two-way wireless outdoor siren (IP55). It provides the perfect security solution for home owners with a PowerMaster wireless intrusion alarm system who are looking for an affordable and easy to install outdoor siren. It excels in offering cabling free installation and extended time between battery changes.
The siren's two-way, fully supervised communication with the control panel provides visual and audible notifications of intrusions, fire alarms, low battery and communication disruptions.
Features:
• Sleek design and robust weatherproof housing (IP55) with high power strobe light
• Differentiated alarm sounds for intrusion and fire
• Loud 105 dBA Piezo siren @ 1 meter
• Transmission range is far greater than the industry standard, enabling repeater free installations even in large premises
• Visible signal quality indication shown on the device
• PowerG two-way Frequency Hopping Spread Spectrum FHSS-TDMA technology, provides robustness and reliability closer than ever to wired systems