CCTV
Ip – AHD – TVI – POC
Installations – Servicing – Repairs
Trespass Prevention Systems can supply and install service and repair CCTV systems for security at your home or business throughout Great Barr, Sutton Coldfield, Birmingham and the West Midlands. After a site survey, we can ensure the system you get is ideal for your commercial or domestic applications weather you require HD cctv, Ip cctv with a nvr or upgrading your analogue cctv system to a AHD cctv system.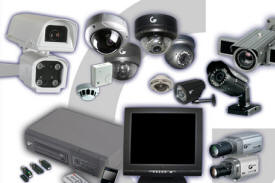 If you are looking for a home cctv system, we can install day/night bullet type cameras or dome cameras that provide good pictures even in low light. These systems are ideal as they act as a visible deterrent in addition to help identifying a determined intruder.
We also provide a wide selection of covert cctv cameras which are perfect for more unobtrusive uses. Despite their small size they are able to record quality pictures.
For high security sites we can provide fully functional cctv domes, ideal for internal and external use. These cctv cameras are ideal for any premises with on site security guards or remotely connected to a 24hr monitoring station.
AHD CCTV SYSTEMS
Upgrading your older analog system has never been easier and TPPS offer a full range of AHD cameras and dvrs. Simply using your existing coax cabling and just upgrading your cameras and dvr to AHD technology gives you a great upgrade to the hd digital world.
IP Cameras
If you are a business with a IT network installed you could take advantage of IP cctv cameras. They work by turning images and audio into data then transmitting this data over a network or Internet connection. The ultimate benefit of this over analogue CCTV systems is greater flexibility, better performance and easier installation.
Whilst IP cctv has been available for around 10 years, it is only in the last few years that the technology has matured, leading to the developments in Megapixel IP. Read below for a summary on the benefits of using IP based systems over traditional analogue systems.
CCTV Recording

A dvr is a digital recorder, replacing the old video recorder.The dvr has a hard drive which it records the images to. So no more changing tapes everyday.The dvr can include a CD writer for copying images to a disc from the hard drive for evidence. Also there is a LAN connection for IT integration or offsite monitoring.
Many local authorities require that certain types of business premises, especially those that open late into the evening, have an operating camera system with digital recording facility as either a term of their licensing agreement or by law. Pubs, clubs, restaurants and similar businesses are finding that they are being required to fulfill more and more different requirements and the presence of a working CCTV system is an ever increasing license rule for these types of premises.

Different types of Cctv systems
What does NVR stand for ?
NVR stands for Network Video Recorder. An NVR record and store video footage directly from the ip camera to the hard drive fitted inside the NVR . These systems work with an advanced type of camera, called IP cameras.
NVRS generally come with 4, 8, 16, or 32 camera inputs.
What does DVR stand for ?
Dvr stands for digital video recorder. A dvr connected to TVI , AHD, OR POC camera will record images to the built in hard drive.. The DVR converts the footage to digital and then compresses it. … DVRs generally come with 4, 8, 16, or 32 camera inputs.
IP Camera ?
An Internet Protocol camera, or IP camera, is a type of digital video camera that receives control data and sends image data via the network.
Cable required to be used is cat 5 or 6 with rj45 connectors.
AHD Camera ?
AHD camera is an analogue high definition closed-circuit television video surveillance standard that uses coax cable to transmit HD video from security cameras to DVRs. AHD supports 720p and 1080p HD video resolutions. You can find different styles of AHD CCTV cameras.
Cable required to be used coaxial and Bncs connectors or cat 5 and balums.
TVI Camera ?
TVI cameras are a type of analogue high definition CCTV security camera (megapixel video over coaxial cabling / HD over coax) that supports up to 1080p video resolution. … For recording, TVI security cameras must be used with a compatible DVR.
Cable required to be used is coax and Bncs connectors or cat 5 and balums.
POC Camera ?
Power over Coaxial (PoC) basically means that power for the camera is supplied by the DVR this removes the requirement for separate cables and power supplies which would otherwise be needed to power your cameras.
Cable required to be used is coax and Bnc connectors.